Update: Who's prettier: the leading twitter client twhirl or my baby twitterwidget? VOTE NOW! (poll in the sidebar)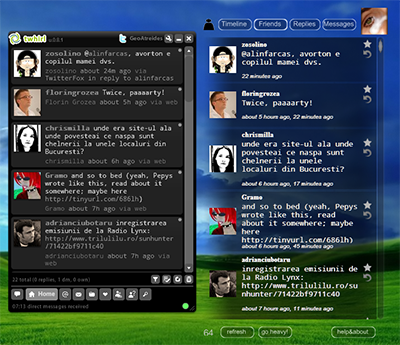 Twhirl versus twitterwidget.
Click to enlarge.

Now with fluffly text formating! And maybe grouping people. And maybe friendfeed and cirip.ro support. And maybe archiving. Yes, so you can save all the twitters forever and ever.

Or maybe not. I really don't feel like working on it. Got some other projects, but haven't got time(i.e. money)

I'm thinking of abandoning the Y!WE. Kinda sucks to not have rich editboxes or a decent height calculations.

Tot zilele astea lucrez şi la alte posturi, posturi foarte interesante, extrem de interesante, nici nu aveţi idee ce pierdeţi.

G.